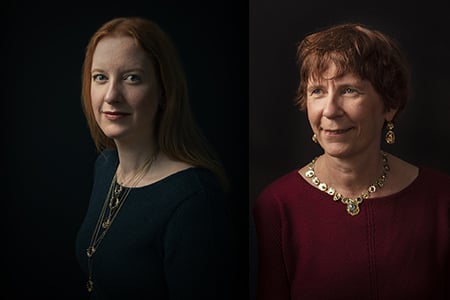 Hoogenboom & Bogers is a fine jewellery design duo, started by Heleen Hoogenboom and Sanne Bogers in 2015. Heleen Hoogenboom has been a jewellery designer and goldsmith since 1987, Sanne Bogers since 2011.
Before they started their joint business, Heleen has had a gallery in Utrecht from 1987 until 1992 and in Bilthoven until 2015.
Heleen and Sanne sell their work solely in their store annex studio in Bilthoven. They also have a strong online presence, showcasing their work in their web shop and on social media like Instagram.
Hoogenboom & Bogers specializes in fine jewellery. Heleen and Sanne only work in recycled or Fairtrade gold, use conflict free diamonds and high quality natural gemstones and pearls. Every piece in their collection is handmade and unique. They don't make multiples.
They love creating small and delicate works of art. Over the years they have developed their own style. At this time they focus on two collections: Threads of life and Synergy.
Heleen & Sanne

This beautiful series of portrets was made by photographer Natanya Hartgers. She wanted to feauture "The maker and their jewellery"