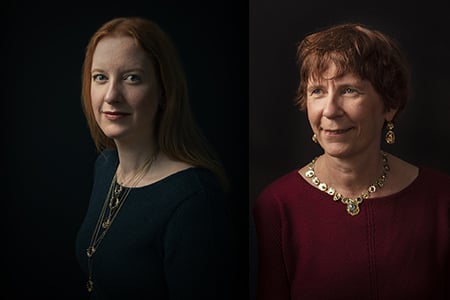 Hoogenboom & Bogers is a fine jewellery house, started by the creative duo Heleen Hoogenboom and Sanne Bogers in 2015.
They have had a long history in jewellery design and have been active since 1987.
Hoogenboom & Bogers specializes in fine jewellery. Heleen and Sanne only work in recycled gold, use conflict free diamonds and high quality natural gemstones and pearls. Every piece in their collection is handmade and unique. They don't make multiples.
They love creating small and delicate works of art. Over the years they have developed their own style. At this time they focus on two collections: Threads of Life and Synergy. Both of the collections are completely different, but still work so well together. Heleen and Sanne can express their selves in these two collections. Tell the stories from life, from the joy, the laughter, the magical moments, to the sad, the difficult and life chancing experiences.
In the Threads of Life collection, the threads symbolize life. The intertwining threads and pieces of molten gold or spheres represents an event in life. Together they form a delicate balance. The name for this collection came from Sannes father. He wrote the poem "The Threads of Life" when he had chosen a threads ring as an anniversary present for her mother. Every piece whether it is a ring, earring, pendant or pin is unique, not one is the same.
In the Synergy collection it is all about the synergy between flame, gold, gemstones, pearls and Heleen and Sanne as makers. The structures they create in the gold are never the same, just like life itself. The gemstones and pearls they use all tell their own stories, through their colour, the light they reflect and how they form a balance with the gold.
Heleen and Sanne sell their work solely in their store annex studio in Bilthoven.
Heleen & Sanne

Heleen and Sanne worked together with fine art photographer Kaat Stieber to create these wonderful photos. "Dive straight into a rabbit hole to discover the enchanting world of Hoogenboom & Bogers"

This beautiful series of portrets was made by photographer Natanya Hartgers. She wanted to feature "The maker and their jewellery"