We love making bespoke jewellery in our own signature style. Here you can see some examples.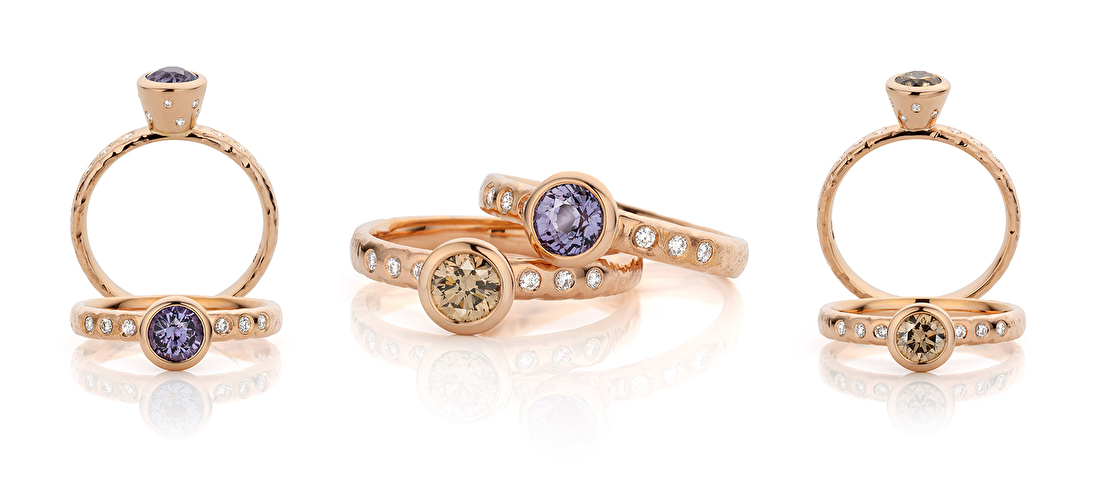 Mother and daughter rings. They chose our Starry Sky rings, where you can see a starry sky of diamonds in the bezel. The daughter has a lavender corundum and the mother has a brown diamond.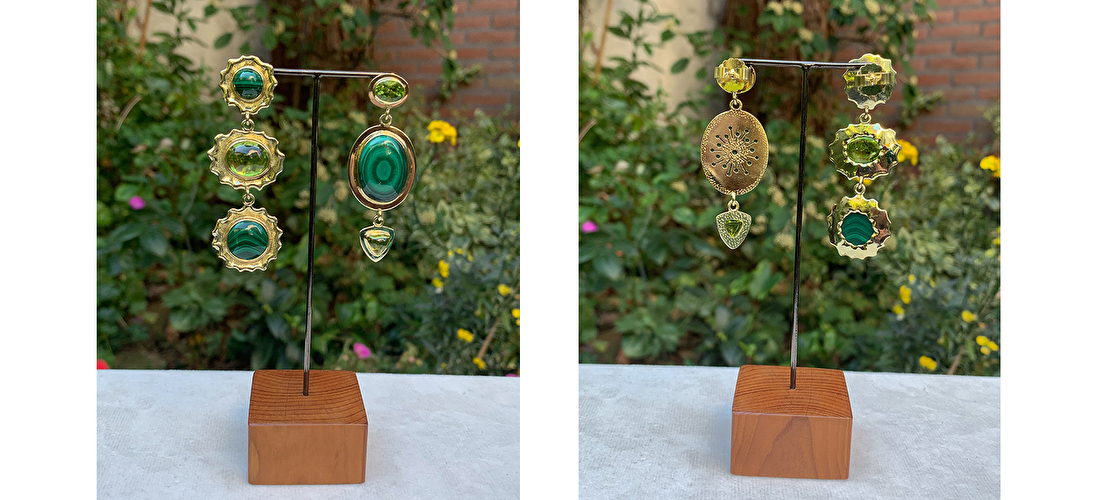 We were asked to design earrings that symbolise COVID-19. They had to be a mismatched pair, where on one side you could see the chaos, the uncertainty and instability. And the other has to symbolise the more stable period in this pandemic. Also we had to be true to our signature style. We used malachite and peridot for these statement earrings. And did you see the back? It is all in the details.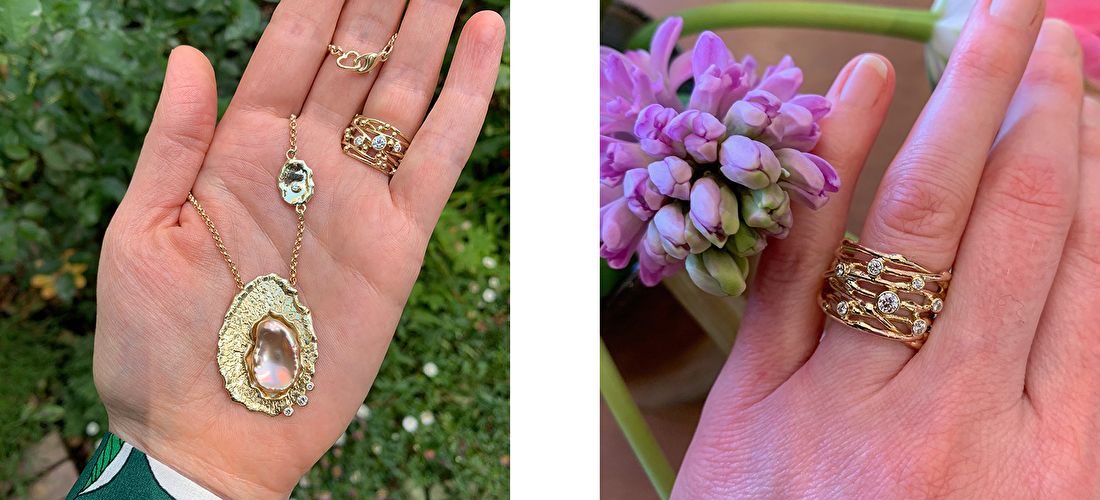 A gold pendant with a beautiful Keshi pearl and with 5 diamonds. These symbolise her sons and husband.
A Threads of Life ring in red and yellow gold with 7 flawless Hearts & arrows cut diamonds.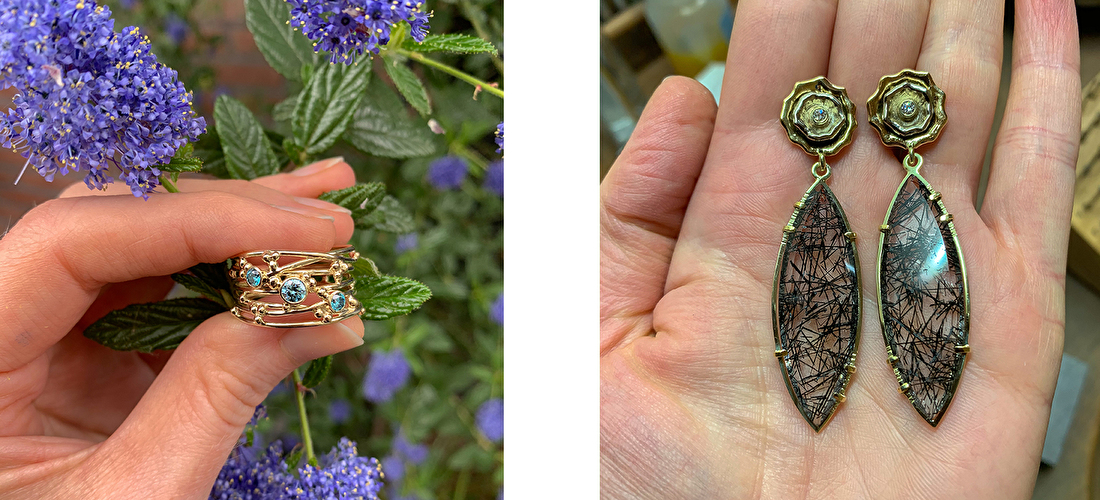 Threads of Life ring made with family gold. She choose three beautiful blue diamonds.
When she saw the tourmaline quartz on our Instagram, she fell in love. We made these earrings with the high quality tourmaline. The roses are two toned, in white and yellow gold and we added flawless Hearts & Arrows cut diamonds.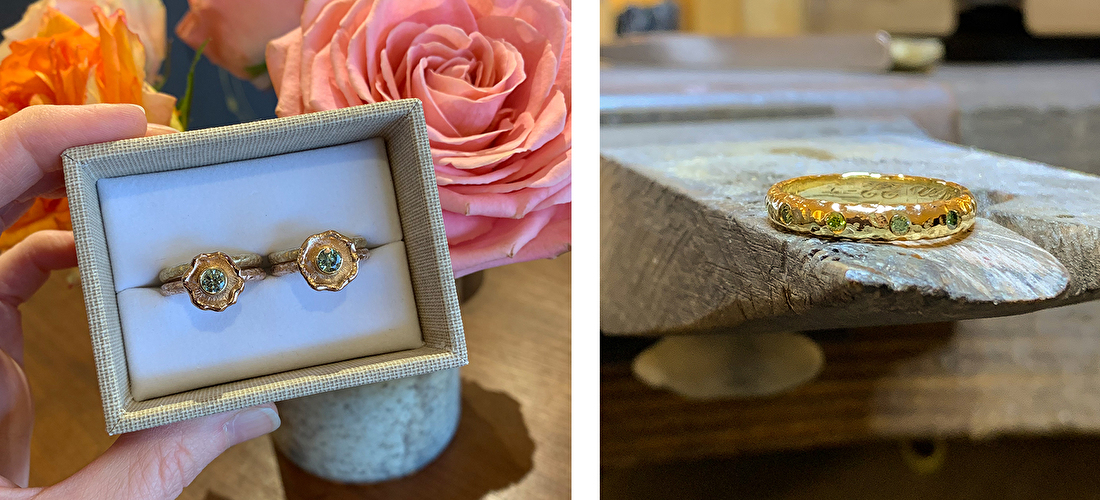 Engagement and wedding rings for two wonderful ladies. Both of them fell in love with our mint green diamond ring. So we searched for another mint green diamond. The rings are entirely made by hand, so each is a little different. The engagement rings are in 18k redgold, the wedding rings in 18k yellowgold. you can stack te rings, a perfect set.
We structured the wedding ring and added 11 diamonds in different green tones. This way she can stack the ring to her own ring and wear them together.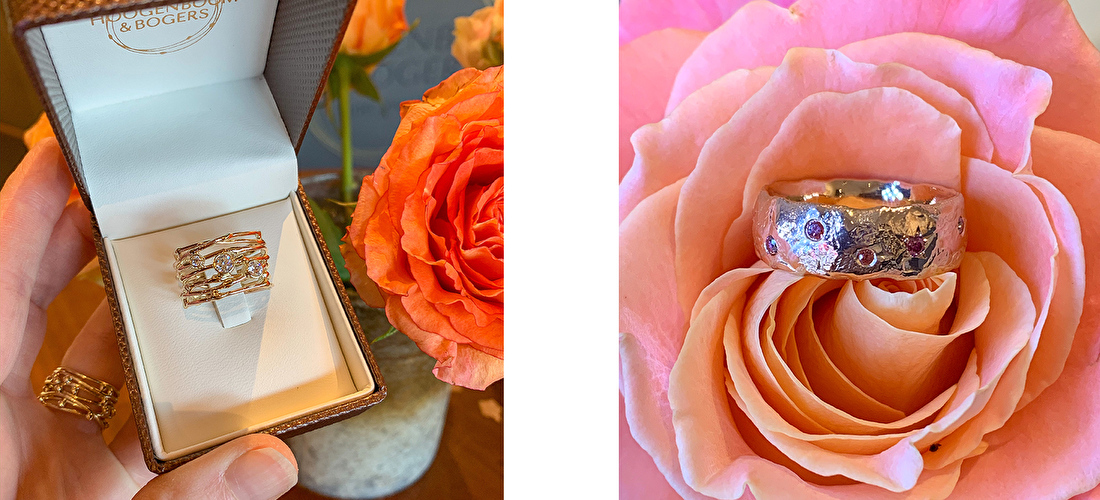 What can you do with two rings with diamonds you do not wear anymore? We used part of the gold to make this Threads of Life ring. We took out the two diamonds and added these to the ring. She picked out another diamond, now the three symbolise her family. In the back we added a little secret heart.
Synergy sunrise ring with 11 diamonds in different colours. Three of the diamonds are set in a star, they symbolise her daughters. The ring is a 18k redgold ring.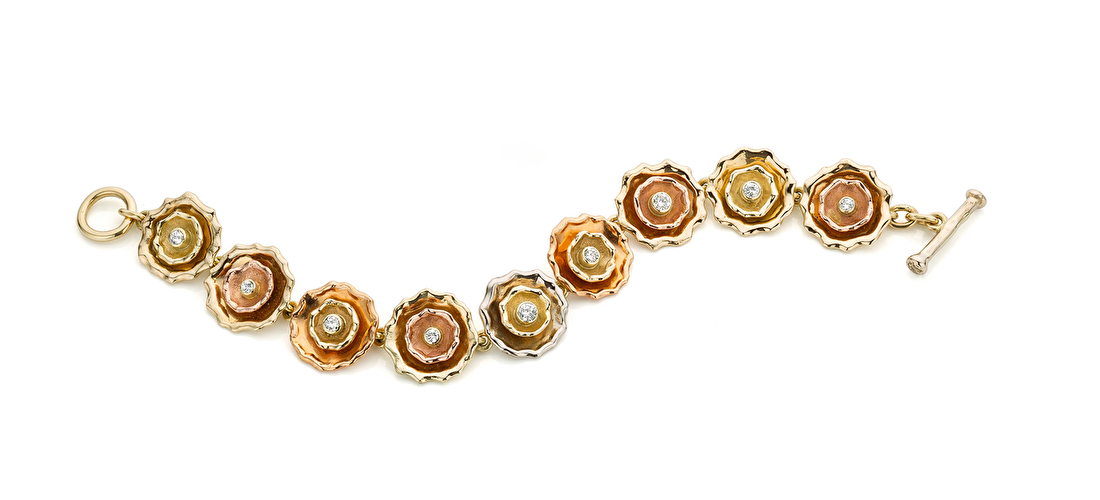 ​
She could not wear part of her jewellery anymore. So we melted everything and made her this beautiful bracelet. It has 9 different links in white, red, rose and yellowgold. We also added 9 diamonds from her old jewellery.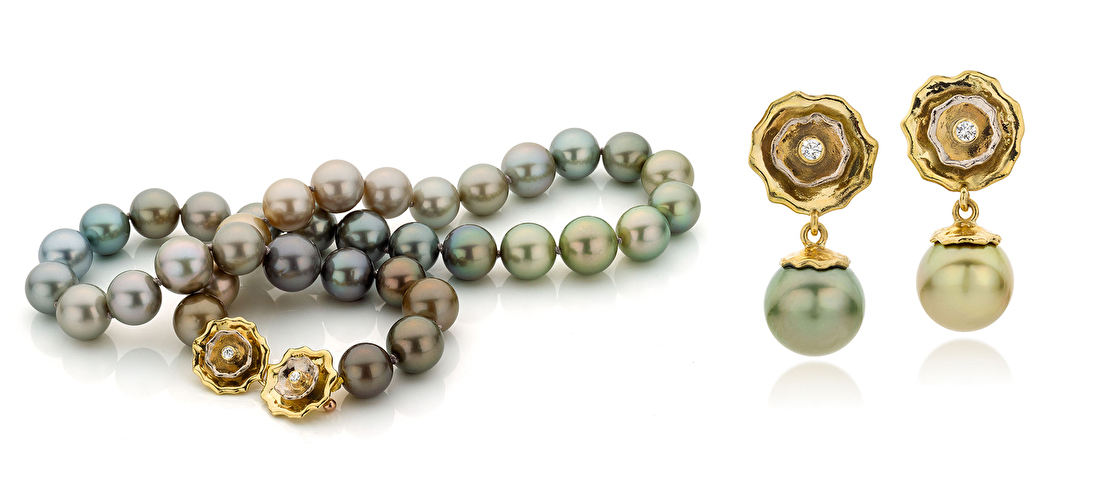 Tahitian pearl necklace with an 18k white and yellowgold lock. The lock has two flawless Hearts & arrows cut diamonds. The lock can be worn to the front. We made matching earrings with two green toned Tahitian pearls. The earrings are also in 18k gold and have the same diamonds, quality DE/LC. Such a beautiful gift!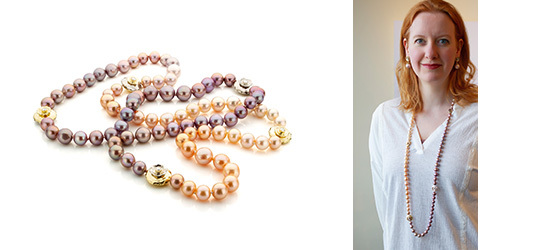 A very special commission, a natural coloured Edison pearl necklace with 5 handmade beads. The necklace is 1.10mm long and has pearls from 9mm up to 15mm in size. The handmade beads are all different and made from 18k white and yellowgold. They have flawless Hearts & Arrows cut diamonds on one side, the other side has a sun. We also made matching earrings for her, you can see these on the photo below. There is a total of 1.23ct of diamonds in this set in DE/LC quality.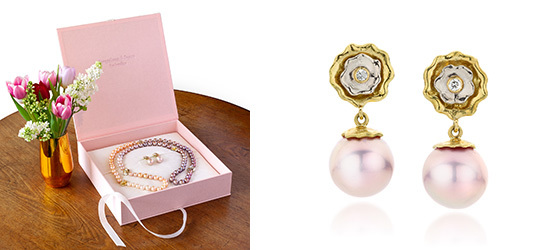 The matching earrings have 15mm natural coloured Edison pearls. And also have flawless Hearts & Arrows cut diamonds. For this special jewellery set we asked Paula from www.1000en1boeken.nl to make a jewellery box. The pearls were handselected by Zylana from www.zylana.com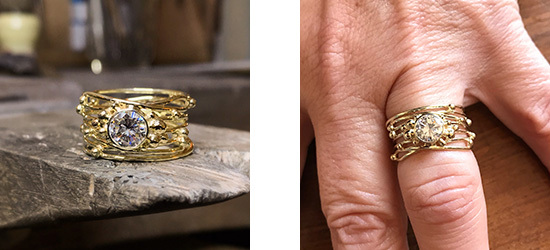 She wanted her 1.03ct diamond that she had been wearing for 15 years in a new design. We made her a beautiful Threads of Life ring. The ring exceeded her expectations, she could not stop smiling.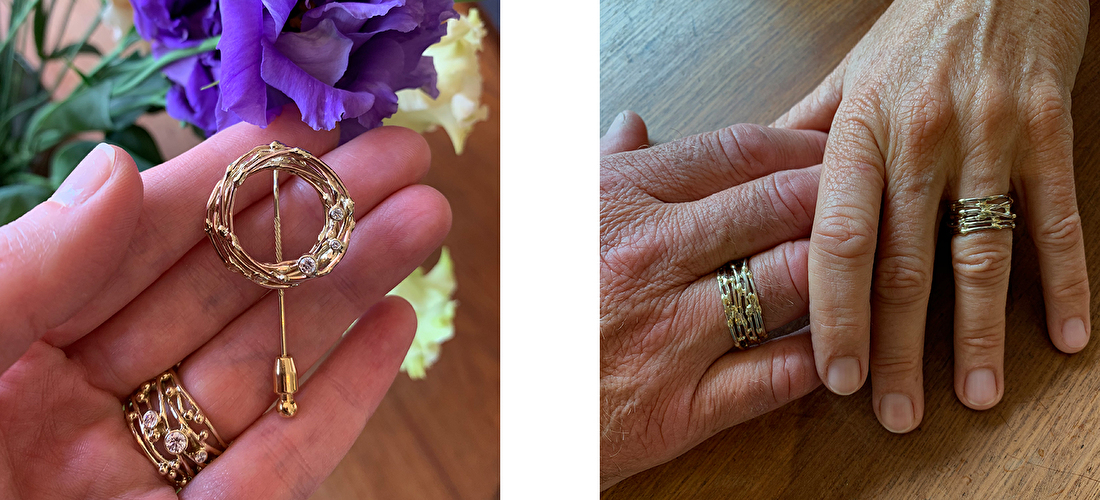 Threads of Life pin, made with 3 flawless Hearts & Arrows cut diamonds. They symbolise his wife, their children and grandchildren.
Threads of Life wedding rings, in white- and yellowgold. His ring is a more robust version.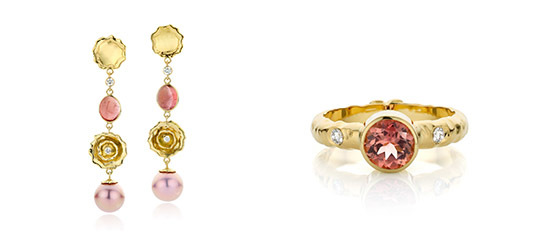 For her daughter we made these very special earrings and ring. Both are made from 18k gold and the earrings have pink tourmalines, natural coloured Edison pearls and flawless Hearts & Arrows cut diamonds. The ring also has a tourmaline and the same diamonds. In the back it has a little secret heart. What a beautiful gift !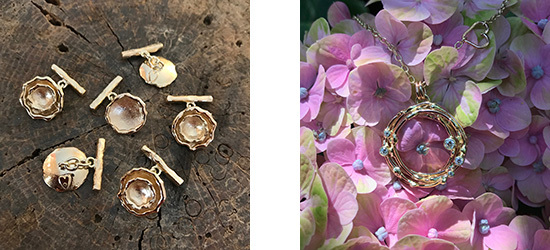 For her 3 sons cufflinks made with gold from her old jewellery.
In this threads of Life pendant there are 5 flawless Hearts & Arrows cut diamonds, they symbolise her children and grandchildren.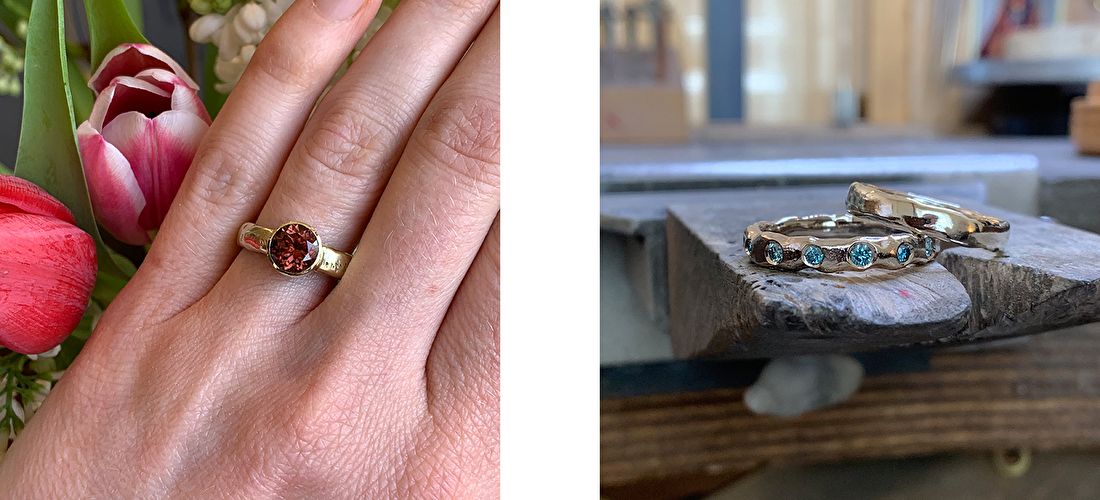 She picked a natural raspberry coloured zircon from our gemstone collection, we set the gemstone in an old family ring.
Weddingset in whitegold with for her 14 blue diamonds in different shades.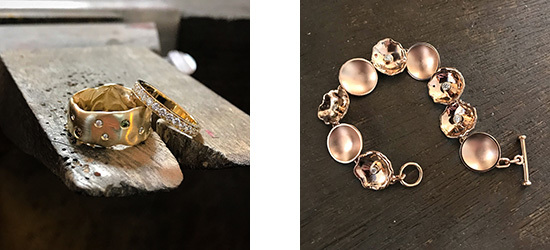 Weddingset with in an Eternity ring 0,87ct of Hearts & Arrows cut diamonds and a rustique starry sky ring with a total of 18 diamonds. Four are green diamonds, three are brown and 11 are white Hearts & Arrows diamonds. All symbolising something important in her life.
Gold bracelet with 5 flawless Hearts & Arrows cut diamonds. They symbolise their family with three children. Matching her earrings and ring, a perfect gift from her husband.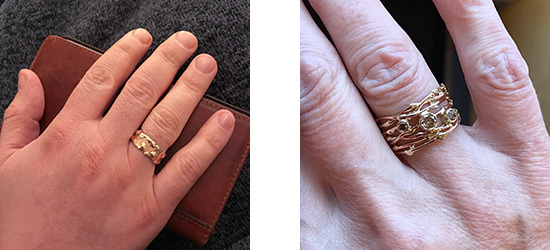 After his stem cell transplant she gave her husband a Lava ring to celebrate new life.
A Threads of life ring with 3 cinnamon brown diamonds, a gift from her husband.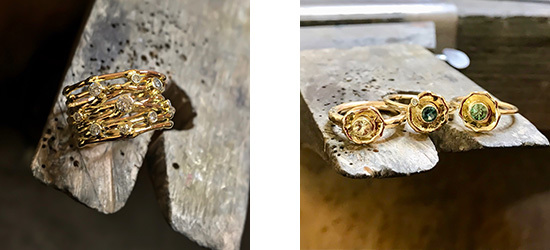 Weddingring from our Threads of Life collection with 9 flawless Hearts & Arrows cut diamonds.
Rings from our Synergy collection with tourmaline and sapphire.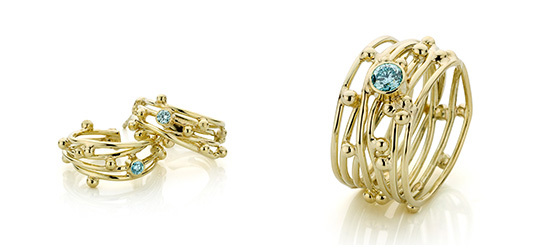 Gift for her birthday, a ring and matching earrings in our Threads of Life collection with blue diamonds.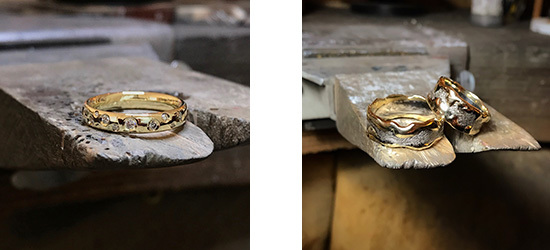 If we could make her weddingring into a stary night ring, we added 24 Hearts & Arrows cut diamonds to her ring.
Weddingset Lava from our Synergy collection in white and yellowgold.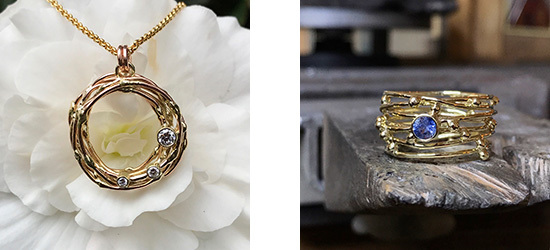 After their second son was born he wanted to surprise her with a Threads of Life pendant. It has 3 flawless Hearts & Arrows cut diamonds.
The blue sapphire reminded her of her sons eyes, a beautiful Threads of Life ring.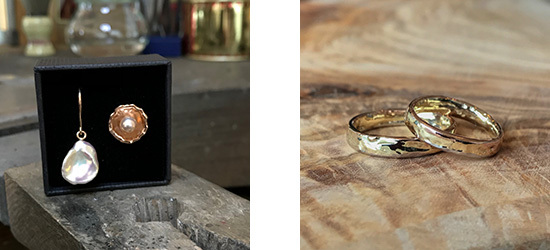 A mismatched pair of earrings with Keshi and fresh water pearls.
A weddingset in three tone gold.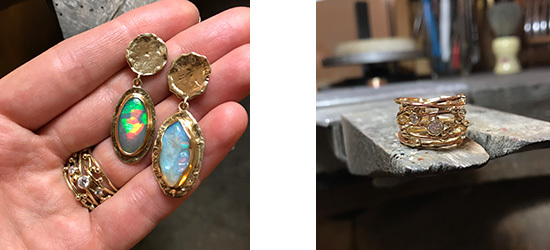 A special project, she wanted one rough opal and one polished opal in her earrings. So she picked these two from our collection and we made these one of a kind earrings for her.
Her personal story translated in this two tone Threads of Life ring with two diamonds and seven little spheres.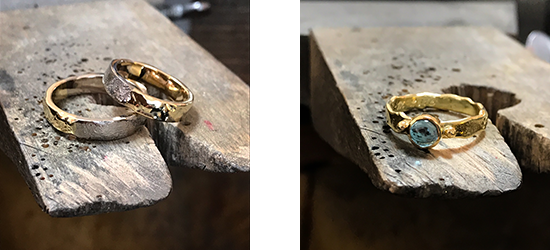 Weddingrings in white and yellowgold. His ring is made out of 2/3 whitegold and 1/3 of her yellowgold. Her ring is 2/3 yellowgold and 1/3 whitegold from his ring.
Ring made to commemorate her father. For her sister and mother we also made a ring and pendant so she could wear her husbands ring next to her own.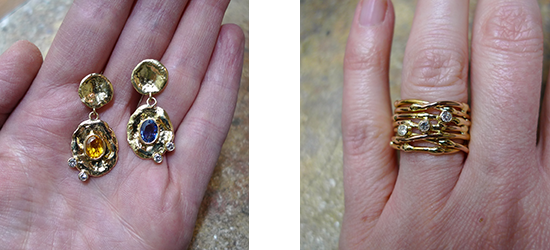 From 18k gold jewellery and gemstones from her family, we made these beautifull earrings.
We used her own diamonds in this Threads of life ring.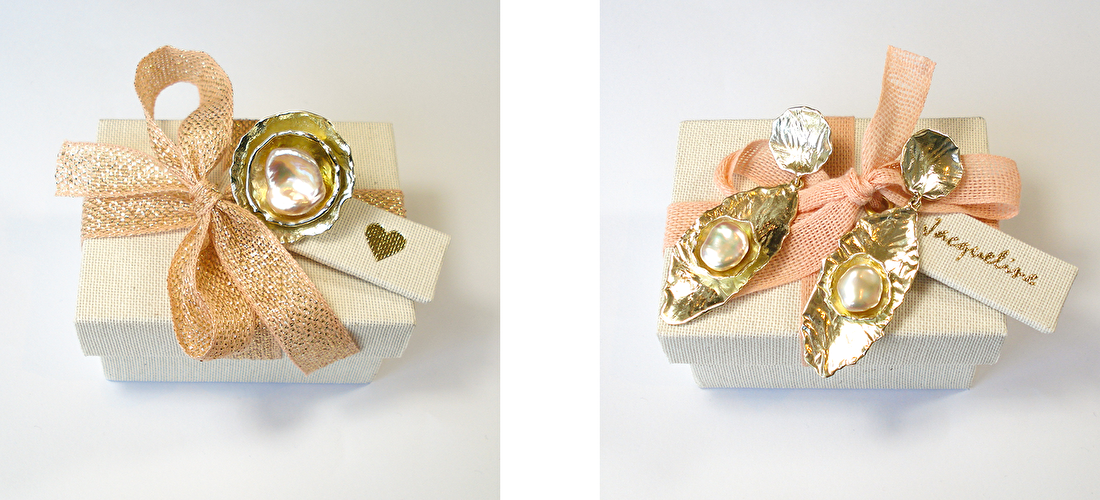 For her weddingdag we made a beautiful ring and earrings with Keshi pearls. We love the handmade jewellery boxes that Paula Derksen from www.1000en1boeken.nl made for her and her children.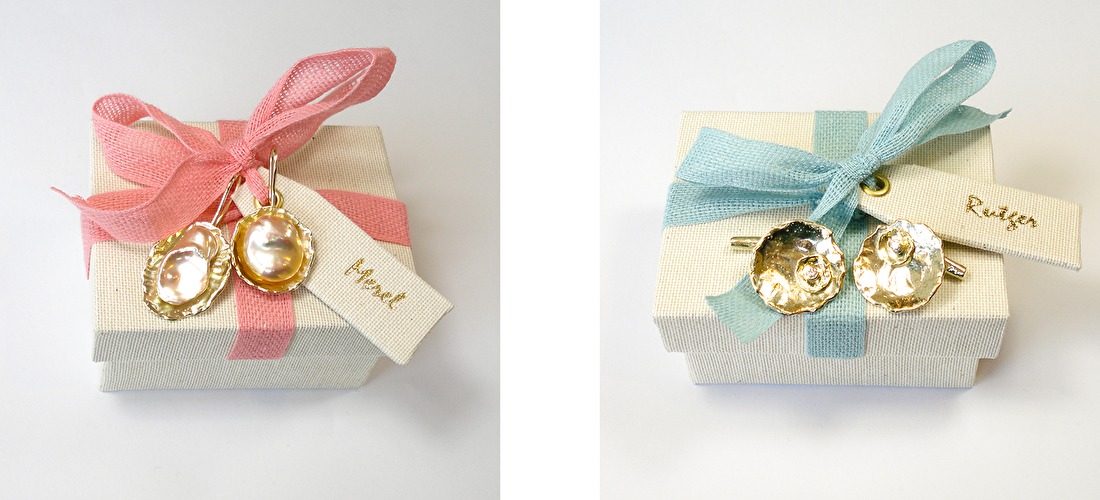 For her daughter and son we made earrings with Keshi pearls and cufflinks with diamonds. A beautiful gift!