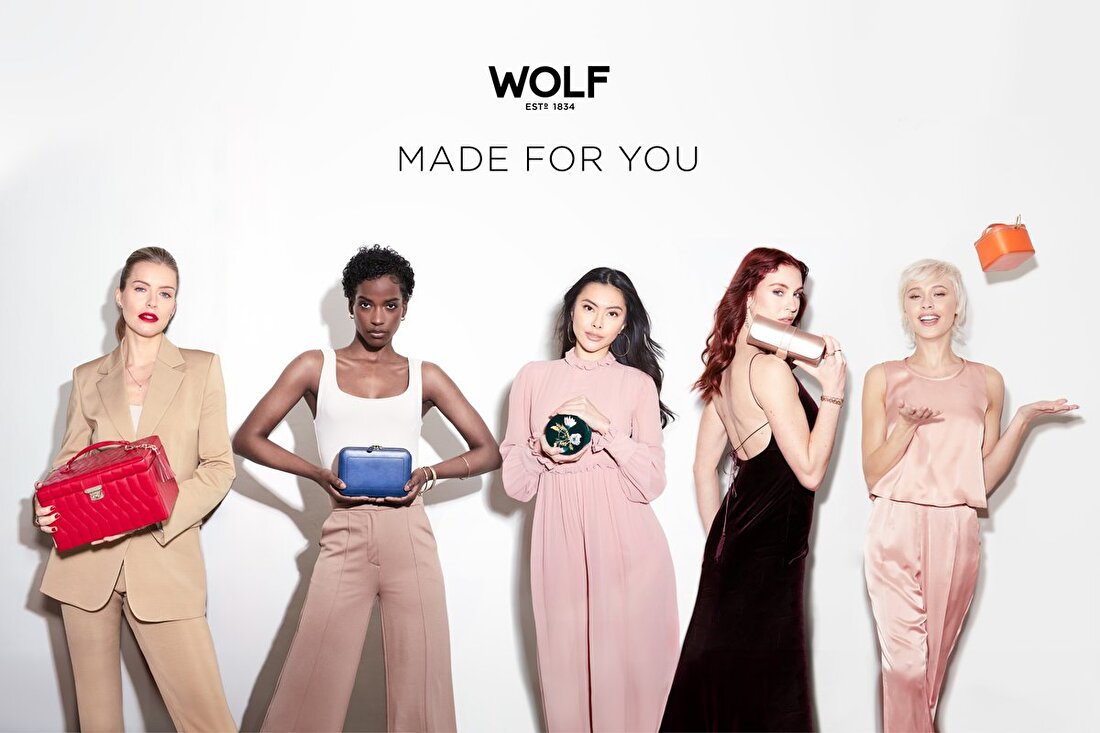 Please keep in mind we do not send these abroad, only to the Netherlands!

We sell an assortment of stunning designer jewellery boxes and jewellery organisers from the prestigious brand WOLF1834 where there is something for everyone. Details that include quilted leather, applique treatments and patented Lusterloc™ keeps your jewellery safe and secured in style.
Please let us know if you would like a jewellery case, watch box or watch winder that we do not have in our online webshop, or if you would like a different colour. We can always order one for you.
Sophia - Mini zip case in Jade

Where classic meets contemporary, function meets fashion, Sophia's Travel Zip Case is designed to protect jewelry on-the-go. Available in sweet neutrals and rich colorways inspired by the natural world, Sophia pops on your…

€ 145,00

Maria - Zip jewellery cube in Mustard

Maria collection is inspired by the traveler in love with cities they've never been to, and people they've never met. Take the Maria cube zip with you wherever you go for business, leisure, and everything in between. Keep…

€ 169,00

Maria - Medium zip case in Tangerine

A new classic is born with Maria. Pure sophistication with clean lines and just the right amount of detail. Maria is for the traveler in love with cities they've never been to, and people they've never met. Our first complete…

€ 255,00

Maria - Jewellery portfolio in Tangerine

A new classic is born with Maria.
Pure sophistication with clean lines and just the right amount of detail. Maria is for the traveler in love with cities they've never been to, and people they've never met. Our first complete…

€ 179,00

Zoe - Medium jewellery box in Mink

Fresh faced and fun, Zoe is sophisticated but playful. The Medium case's soft forest green body highly embroidered with classic floral designs is as beautiful as its accessories inside. Includes velvet exterior, LusterLoc™…

€ 549,00

Zoe - Medium jewellery box in Indigo(Sold!)

Fresh faced and fun, Zoe is sophisticated but playful. The Medium case's soft forest green body highly embroidered with classic floral designs is as beautiful as its accessories inside. Includes velvet exterior, LusterLoc™…

€ 549,00

Zoe - Travel round in Indigo

Fresh faced and fun, Zoe is sophisticated but playful. Add romance to your travel accessories with the elegant floral embroidery and jewel-tone velvet travel round. Includes velvet exterior, LusterLoc™ interior, zip pouch, and…

€ 129,00

Zoe - Travel round in Forest green

Fresh faced and fun, Zoe is sophisticated but playful. Add romance to your travel accessories with the elegant floral embroidery and jewel-tone velvet travel round. Includes velvet exterior, LusterLoc™ interior, zip pouch, and…

€ 129,00

Zoe - Travel zip case in Indigo

Fresh faced and fun, Zoe is sophisticated but playful. Organise your jewellery on-the-go with the feminine yet functional Zoe Travel Zip Case. Includes velvet exterior, LusterLoc™ and mirror.

COLOUR:
IndigoSIZE:
20CM L X 12.8CM…

€ 205,00

Zoe - Travel zip case in Forest green

Fresh faced and fun, Zoe is sophisticated but playful. Organise your jewellery on-the-go with the feminine yet functional Zoe Travel Zip Case. Includes velvet exterior, LusterLoc™ and mirror.

COLOUR:
Forest greenSIZE:
20CM L X…

€ 205,00

Zoe - Travel zip case in Mink

Fresh faced and fun, Zoe is sophisticated but playful. Organise your jewellery on-the-go with the feminine yet functional Zoe Travel Zip Case. Includes velvet exterior, LusterLoc™ and mirror.

COLOUR:
MinkSIZE:
20CM L X 12.8CM W…

€ 205,00

Harrods - Cassandra jewellery box in Cognac

The Cassandra collection is designed in collaberation with Harrods.
It encompasses all that is the classic British woman. Simple yet elegant, luxurious and made to last a lifetime. Cassandra is modern with a nod to traditional…

€ 669,00

Harrods - Cassandra - Watch and jewellery roll in Cognac

The Cassandra collection is designed in collaberation with Harrods. It encompasses all that is the classic British woman. The Jewellery & Watch Roll is simple yet elegant, luxurious and made to last a lifetime. Cassandra is modern…

€ 319,00

Harrods - Cassandra jewellery portfolio in Hunter green

The Cassandra Jewellery Portfolio encompasses all that is the classic British woman. Simple yet elegant, luxurious and made to last a lifetime. Cassandra is modern with a nod to traditional English roots, with an unmistakably…

€ 319,00

Caroline - Jewellery portfolio in Red

The embodiment of sophistication and style. Caroline, a timeless classic with elegant soft lines of the 50's, supple diamond quilted leather accented with gold hardware. This refined jewelry portfolio is the perfect home for…

€ 189,00